Produced water has become a global environmental issue due to its huge volume and toxicity that may pose detrimental effects on receiving environment. The disposal of produced water during petroleum exploitation is known to cause serious environmental damage. In order to reduce the negative impact caused by produced water, it is necessary to perform a water treatment before disposing it into the environment.
Over tens of years, produced water treatment technologies have progressed from conventional processes to the most sophisticated methods of separation. Large tanks were used as the first attempt at gravity separation but were inefficient and required much space. As the industry matured, utilizing only a gravitation process with an adequate number of retention time tanks became difficult in the limited space available. Some technologies took strides toward improvement after that to enhance separation capability while decreasing the overall footprint of the equipment.
Primary Treatment
Flotation Unit
Filters / Polishing Unit
TRIOXTOR®
Primary Treatment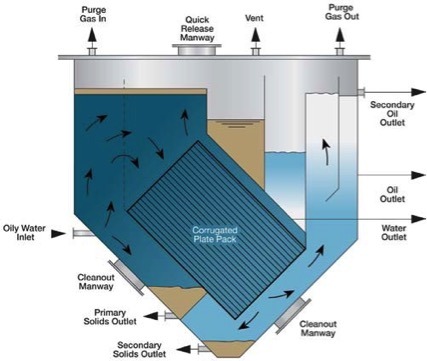 Corrugated Plate Interceptor (CPI)
Corrugated Plate Interceptor (CPI) provides economical and effective removal of oil and solids from produced water by gravity separation principle that is based on the difference of specific gravity between the phases (oil, solid, water).
The heart of Interceptor is its plate pack. The plate pack is designed to minimize the distance a free oil droplet must rise before coming into contact with other oil droplets. This design ensures that the oil droplets coalesce on the undersides of the corrugated plates, facilitating the free oil removal process.
The configuration and number of plates of the Interceptor units provide enough effective area for free oil removal with greater than 60 microns. While the separator between the plates is able to tolerate up to 100 ppm of total suspended solids without affecting the effluent quality.
Interceptor is often used as primary water treatment in order to process the produced water before the secondary treatment/flotation unit.
Application
Better effluent quality – removes free oil droplets 60 microns or larger
Superior solids handling – tolerates 100 ppm total suspended solids
Compact Design
Low maintenance design – no moving parts
Continues Operation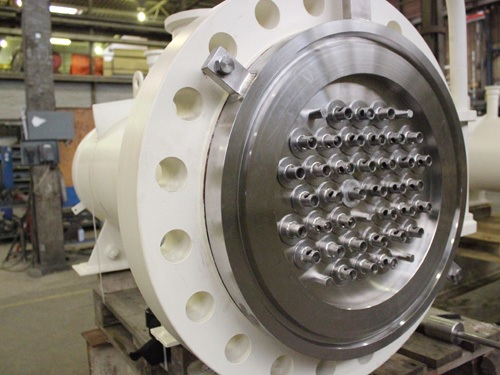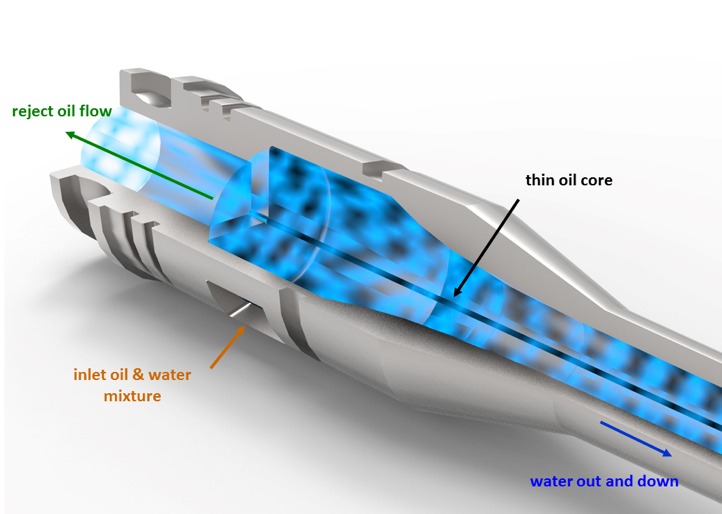 Deoiling hydrocyclone
In the basic design of the de-oiling hydrocyclone the phases to separate enter into the cyclone via a tangential inlet and by the effect of the wall curvature of the cylindrical body a strongly swirling stream is developed, causing the lighter phase to migrate toward the centreline and the heavier one toward the wall.
Hydrocyclone is an excellent coalescing device, and its functions best as primary treating device. It is a type of gravity unit that uses pressure to speed up and enhance the separation process, Hydrocyclone requires a minimum pressure of 100 psi to produce the required velocities. Hydrocyclone do not appear to work well with oil droplets less than 10 to 20 microns in diameter.
Application
No moving part
No Power (if High enough Pressure available)
Small oily reject stream (1-3%)
Compact Design
Continues Operation
Flotation Unit
Filters / Polishing Unit
TRIOXTOR®